Designed specifically for
small

and

mid-sized

factories.

Make a big impact with a small effort.
Pricing for all
Pricing that won't break the bank. No consultants or specialized programmers needed. Only pay for what you need, when you need it.
Built-in Error proofing
Digital work instructions sync with the physical tools operators are already using, providing real-time quality checks. Consistent builds, guaranteed.
So. Much. Data.
We give you the insights to make immediate and strategic decisions. No more time studies. No more endless Excel number crunching.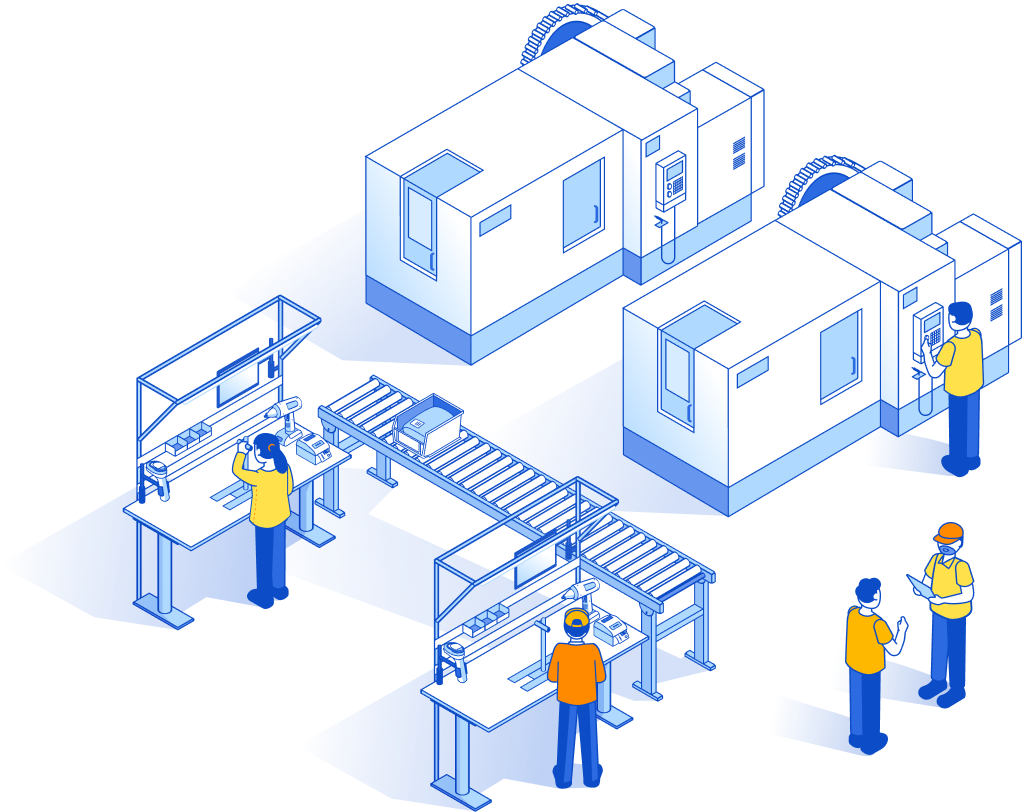 Built-in
error-proofing

eliminates scrap and rework

Call it poka-yoke if you want. It's real-time process control with full traceability.
Integrated devices
Tools sync with work instructions ensuring crucial steps are never missed and numbers are never off.
WIP Tracking
Automatically track process and product SNs so operators always use a valid part for their next build.
Typography
Instructions are easy-to-update, so operators always have the latest and most streamlined version when something changes.
Analytics with real
insights
Access the big data of "Industry 4.0" without the rest of the buzzwords.
visual management
Insights on individual processes shows you build trends and identifies potential problem areas. We build the dashboards for you.
Get the big picture
View your factory station-by-station and spot bottlenecks, downtime, and inefficiencies as they happen. Immediately pinpoint additional production capacity.
Every. Single. Detail.
Every single detail on every single build. More granularity than you asked for. Look up SNs on any part of any product from any build.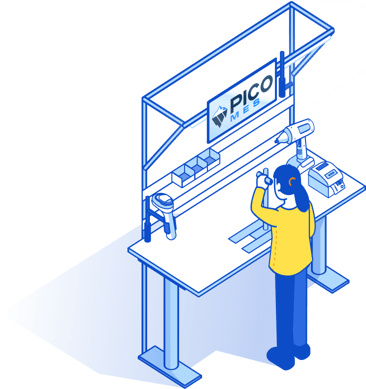 There for operators
when they
need it.
And out of the way when they don't.
Reduce training burden
Get new or rotation operators up-to-speed and mistake-free without looking over their shoulder. Standardized best practices are already captured in the work instructions.
No touch required
Seasoned operators don't need instruction. Pico's digital instructions auto-advance when completed - no screen interaction required.
No big brother
Empower your operators with collaborative tools that encourage their best performance. They can send messages and leave notes with suggestions for process improvement.
Pico adds necessary controls to help mitigate operator errors and it makes the job of our production managers/supervisors easier due to the automatic work order consumption. I also like the ability to analyze our cycle times to determine production capacity.
Alvin Ta
Production Engineer
San Francisco, CA
Setup is
quick

and

easy

.

Runs locally to match your infrastructure, with the
benefits of cloud backup and support.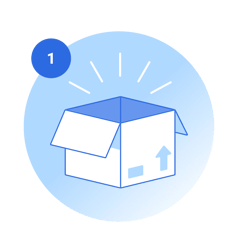 A kit arrives with everything you need to get up and running in less than an hour. Just plug it in and go.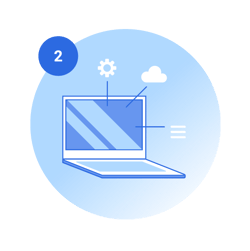 Create the first digital work instructions of any process. Start a build and automatically capture step times, torque values, other measurements, pictures, SNs, and anything else you can think of.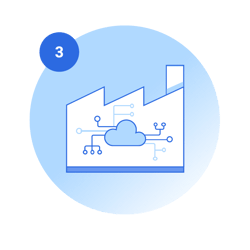 Use Pico at as few or many stations as you want during the free trial. Expand across your factory at your own pace.
Pair with any device,
instantly

.

Keep using the tools you already have and gain access to the ones you've always wanted. We've done the programming work for you.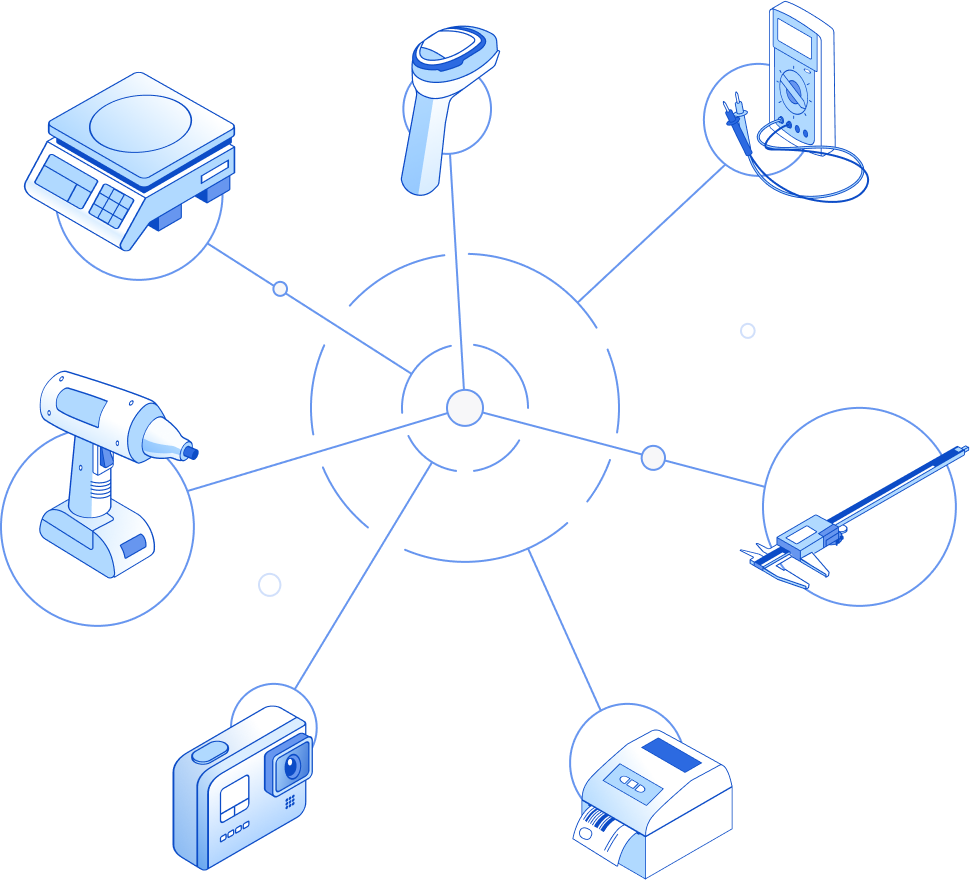 Pico makes it easier to integrate an MES system into a organization that does not understand systems. It acts as a very good bridging tool between manufacturing and production, which always has issues. It's a pretty compact/adaptive system which does all the things many multi million dollar systems still cant figure out.
Raakesh Bhat
Sr. Manufacturing Engineer
San Rafael, CA
What is pico?
Pico MES is a factory operations platform built for small and medium size factories. The Manufacturing Execution System provides real time data through dynamic work instructions for operators and technicians, accurately reflecting your product flow. From integrating equipment to incorporating workstation tools, our software builds in consistency, quality control, and documentation at the ground level for daily production use.
What do i need for set up?
Your required hardware, a small form factor server and device hubs for your workstations, are formatted ahead of time and shipped directly to your location. Once powered on and connected to your network via an ethernet connection, your MES will be live!
Will it integrate with my erp?
Pico can communicate directly with the ERP already running on your manufacturing floor. Whether assigning job numbers and manufacturing orders to the products you're building or actively tracking how inventory is consumed, your daily production can continue as-is.
How quickly can i have work stations operational?
Once the server is plugged in and live, the first workstation can be active and operational the same day! Work instructions are quick and easy to update, and the tools at your workstations plug directly into the hub to capture all relevant and desired build activity.
How do I get my work instructions into pico?
Pico has a user-friendly interface for creating your digital work instructions. Through pictures, videos, BOM tables, and other graphic design tools, your processes and products can quickly come to life as step-by-step instructions for your operators.
What kind of data is tracked?
You can measure every aspect of your operators - process cycle time, standard work efficiencies, throughput, product SNs from operation to operation, environmental data, torque values, and any and all other key process indicators. Because your work instructions integrate with the tools you use, each aspect of every workstation can be monitored.
How much does it cost?
Pico MES is available on a monthly subscription basis, structured in tiers by the number of devices active and integrated into your work instructions. The first tier covers all aspects of the work instructions and operators platform and includes up to 40 devices, or approximately 10 workstations.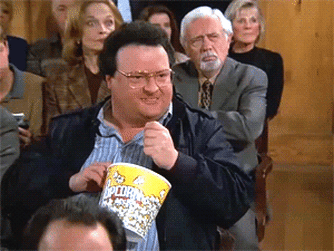 Schedule a free demo
Bring questions or popcorn, sit back, and let us show you how it works in just 30 minutes.