Your free trial period begins
We're convinced your only regret will be not trying us sooner!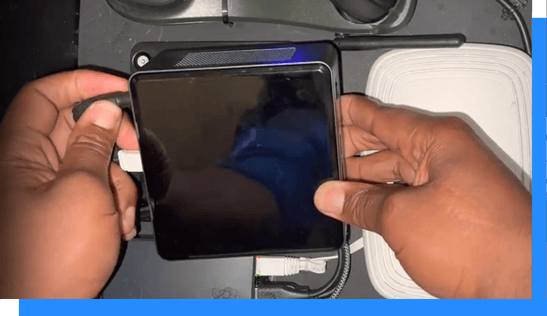 HOURS 1-2
System setup
We send you everything you need to get started: Local server, Hubs (edge devices), cloud backup. Install the Pico server, and plug in your hubs. That's it!
HOUR 3
Set up a process
Create the work instruction within an interface that's designed for Engineers - like Excel and PowerPoint, but faster. Connect to tools by easily dragging and dropping elements around an easy-to-use interface.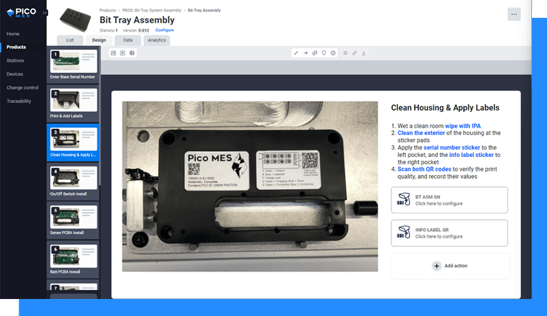 HOUR 4
Test at the station
Use the system! Validate it with an operator. Complete a build. At this point, you've deployed Pico to a station, and set it up for operators to use it!
Watch your life get easier
Pico's full setup only takes half a day to implement. Before the end of day one, you'll begin to see the benefits of using Pico MES.
"Even though we weren't utilizing Pico across our full production line, [my company] saw a 3x-4x increase in output within the first quarter of Pico's rollout within the factory."
Alvin Ta
Production Engineer
San Francisco, CA
GROW AT YOUR OWN PACE
The next steps are up to you

EXPAND ACROSS YOUR LINE
Link seamlessly into your ERP, add additional tools, or expand to new production lines with a few simple steps.

GAIN INSIGHT
Concise data that gives you real answers to questions like, "How has the error rate improved over time?" or "What is the overall increase in our yield percentage"?

CONTINUOUS IMPROVEMENT
Provide production quantities and dates to your customers with a high degree of accuracy based on real results.
ENDLESS POSSIBILITIES...
Advanced Analytics
Understand what's really happening at the operator and tool level. Automatic readings mean accurate data down to each build. Accurately bid on new jobs knowing utilization and cost. Accurate data means better decisions on hiring and new tools. Easily diagnose downtime causes so you can fix quickly.